Discover more from Full Disclosure
A newsletter from Who Targets Me about digital political campaigning in the UK (and sometimes beyond) in the run up to the 2024 election.
It's by-election season
The SNP are back and the Tories are replaying Uxbridge (but are they missing a trick?).
Starting today, and over the next couple of weeks, we'll see three by-elections resulting from the resignations of three MPs. In this issue, we're taking a look at how each of the campaigns are using Meta and YouTube ads to try and win.
At the bottom of the email, you'll also find a link to a new tool we've built to help track millions of pounds, dollars and euros worth of Meta political ad spending across the world.
Please do try it out and let us know what you think.
Full Disclosure is a reader-supported publication from Who Targets Me. To receive new posts and support our work, consider becoming a free or paid subscriber.
---
The Rutherglen and Hamilton West by-election
The SNP very rarely buy digital ads outside of General Election campaigns. That said, there's only been one by-election in Scotland in this parliament (Airdrie and Shotts, which they won, and only really happened for the technical reason that SNP members aren't allowed to sit in Westminster and Holyrood at the same time), and the 2021 Scottish Parliament election was a bit of a non-event.
So Rutherglen and Hamilton West, taking place after the recall of Margaret Ferrier, is the first electoral test the party has faced in a while.
And so, they're spending money - quite a lot of money - despite being odds-on to lose the seat. In the 30 days to 30th Sept, the party spent £4,600 on Meta ads targeting the constituency. These have bought in the region of 1.5m impressions - a lot in a place where there are only 30-40k voters likely to turn out, of whom perhaps only half are active on Facebook or Instagram. Basic maths suggests it's been hard for those people to avoid SNP ads in recent weeks.
Of the SNP ads, there are two on the theme of independence (only 15k impressions so far, but active):
And these two (an odd thing to note - the one on the left, with a black background, is mostly targeted at men, the one on the right, with a yellow background, is targeted at women. If you know why that might be, let us know). About 20k impressions for these so far.
Alongside these, there are a number of ads focused on what "Westminster" does to (for?) Scotland.
On the Labour side, Michael Shanks, their candidate, has spent £1,250 in the last month on his ads, running messages on two themes - first, winning the seat off the SNP, but also being part of the wider effort to put Labour into government over the next year or so.
One interesting detail of his video ads is the timer - very much the digital version of the doorstep campaigner's "do you have a minute to talk?".
85% of Shanks' ads use "lookalike audiences" to reach their audience (versus the SNP's strict focus on postcode-based targeting). It's very hard to say which approach is more effective or efficient - the SNP's "blanket the place" approach, or Labour's "try and get the algorithms to show the ads to the right people". With Labour favourites to take the seat, they'll likely be the ones who get to say they "ran a great campaign", while the SNP head back to the electoral map to work out what they can do better next year.
We can't see any SNP ads on YouTube, but the Scottish Labour Party have run £600 worth in the last month, largely with the same content as their Meta ads. Here's Google's map of where they're running versus the constituency boundaries (from parliament.uk):
FWIW, the Tories (Thomas Kerr) and Liberal Democrats (Gloria Adebo) aren't wasting a penny on a campaign they won't win.
The by-election is today. If you're voting, don't forget your ID. You only have a few hours left.
Tamworth
The Tamworth by-election, coming after the resignation of Conservative MP Chris Pincher following allegations of sexual misconduct, is on October 19th. He had a near 20,000 majority in the seat after 2019.
Labour's candidate in Tamworth, Sarah Edwards, has spent over £2,600 on Facebook ads in the last month, while her primary opponent, the Tory candidate Andrew Cooper, a former soldier and a local councillor for the last two years, has spent less than a fifth of that.
Their ads often compete over the same issues. For example in one ad Edwards argues that police numbers in Staffordshire have fallen by 400 officers. In one of his, Cooper says there are now 333 more (if anyone knows the truth, let us know…).
The Conservatives have also run ads claiming that Edwards doesn't live in the constituency, describing her as "Keir Starmer's candidate from Birmingham" who "doesn't get our priorities". Edwards has responded with her own ads, telling viewers "I live in Tamworth, pay my council tax in Tamworth, my food, my gas, my electric."
As these straight-to-camera ads go, it's a pretty good, natural performance (most candidate video ads are stiff and overly scripted, which is one reason why TikTok hasn't really taken off among British politicians). It's a skill many more are going to have to work on if they're to communicate with voters on the channels they use.
Mid-Bedfordshire
Nadine Dorries' former seat is probably the most competitive of all, mainly because Labour and the Liberal Democrats both think they can win (and, because they might split the anti-Tory vote between them, the Tories will think they can win too).
As a result, everyone's trying to siphon votes from everyone else. Here's Labour East (one of the party's several regional pages that run ads) trying to do exactly that: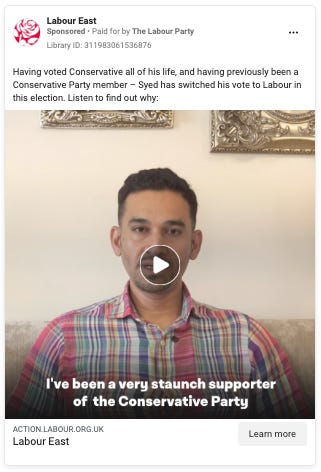 And here's the Central Bedfordshire Liberal Democrats doing exactly the same thing (while throwing in a "not a local candidate" for good measure):
But the main game is the Tories trying to "do an Uxbridge" and turn the campaign into a single-issue referendum. Rather than ULEZ, this time it's the Green Belt, with their candidate, Festus Akinbusoye, donning the Barbour and heading out into the fields to claim "Keir Starmer will concrete over our Green Belt".
By way of rebuttal, Labour's candidate, Alistair Strathern, also takes to the fields to say he'll "oppose any development that doesn't have the right infrastructure". Not quite the same thing, but certainly not a full-throated support for rampant concreting.
Speaking of fields, let's get into the weeds of postcode targeting for a second. In Mid-Beds, Labour is targeting 20 postcode segments (e.g. MK45 5), the Liberal Democrats are targeting 17, while the Tories are targeting just 8. After some data-wrangling based on what we know about the number of people living in each area, we find, of a total population of 100,076, the Tories are reaching areas with 73,876 inhabitants, the Liberal Democrats 97,366 and Labour 100,034.
It's only a one off campaign, but it's interesting to note that the Tories are either a) being efficient, and only trying to reach areas where they think its support is most dense or b) aren't working with a good model for the geography of the area. If, when it comes to the General Election next year, the Tories 'forget' to target 25% of voters because their constituency maps are bad, that could be a significant problem for them. We'll keep an eye out.
---
Introducing our new spending tracker, Trends
For the last few months, we've been working to improve the way we track ad spending by developing a new tool called Trends. Using Meta's daily Ad Library Report (a spreadsheet of how much political advertisers have spent on ads), we've worked to tag over 55,000 political advertisers across the world with their party affiliation. In the UK, this means we're able to track the spending activities of over 7,500 advertisers across all the main UK parties as well as those in Northern Ireland.
The tool (still in beta as we refine a few things) offers day-by-day tracking of Meta ad spending, a cumulative tracker showing spending over time, the share of spending over time, the share of spending for any given time period and a leaderboard that you can filter by party and download as a .csv file
The advantages over Meta's spending tools are:
You can filter for any time period (not just 1, 7, 30, 90 days)

All of the spam and non-political advertisers are filtered out, so it's just advertisers that are relevant for elections

Everything is downloadable

We're doing this in over 50 countries (and growing)
In the future, we're aiming to add:
Google spending

More 'trends' (how spending is changing over time, where advertisers rank)

The ability to create custom reports and focus in on just a few actors

Tens of thousands more advertisers in many more countries

Better ways of understanding how ads are targeted

Automated analysis of ads' themes

Things you think it needs (just let us know).
---
That's all for this time. Let us know if you see anything you think we should cover.
Thanks!
Team Full Disclosure.
---
To support work like this newsletter, Trends, our browser extension and everything else, please consider donating to Who Targets Me.
Full Disclosure is a reader-supported publication. To receive new posts and support our work, consider becoming a free or paid subscriber.